When is the Kentucky Derby 2023? What is the Kentucky Derby Post Time 2023? Those are the common question of every Kentucky Derby fan.
Here, I will show you the 2023 Kentucky Derby Post time of American all time zones and post time in different countries, tv coverage start time of the race day and more info. So let's start!
The 2023 Kentucky Derby post time is 6:57 p.m. ET and it will air on May 6 from 12:00 to 2:30 p.m. ET on USA Network and from 2:30 to 7:30 p.m. ET on NBC.
Kentucky Derby TV Coverage begins at 12:00 p.m. ET. NBC is the home of the 2023 Kentucky Derby, It provides comprehensive live coverage and analysis through Peacock, USA Network, NBCSports.com and the NBC Sports app before, during and after the event.
It is the Triple Crown American most prestigious race. It's called "The Most Exciting Two Minutes in Sports; The Run for the Roses." It will take place on the first Saturday of May 6 at Churchill Downs in Louisville, Kentucky, and will be broadcast on NBC.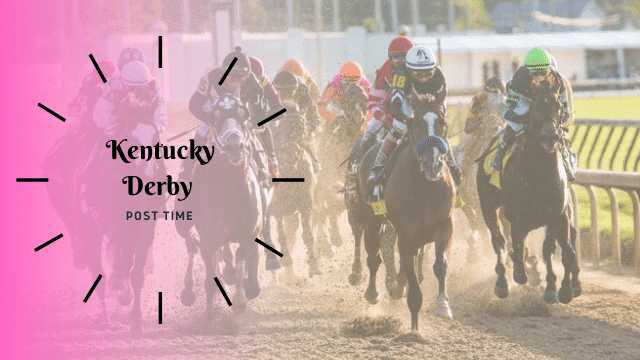 2023 Kentucky Derby Post time zones in the USA
6:57 PM Eastern Time (ET)
3:57 PM Pacific Time (PT)
5:57 PM Central Time (CT)
4:57 PM Mountain Time (MT)
1:57 PM Alaska Standard Time (AKST)
12:57 PM Hawaii Standard Time (HST)
Kentucky Derby Post time and Date of Different Countries
USA: Sat, 6 May 2023 at 6:57 PM EDT
United Kingdom: Sat, 6 May 2023 at 11:57 PM BST
Ireland: Sat, 6 May 2023 at 11:57 PM IST
Canada: Sat, 6 May 2023 at 6:57 PM EDT
France: Sun, 7 May 2023 at 12:57 AM CEST
Australia: Sun, 7 May 2023 at 8:57 AM AEST
Netherlands: Sun, 7 May 2023 at 12:57 AM CEST
Japan: Sun, 7 May 2023 at 7:57 AM JST
Germany: Sun, 7 May 2023 at 12:57 AM CEST
Hong Kong: Sun, 7 May 2023 at 6:57 AM HKT
Singapore: Sun, 7 May 2023 at 6:57 AM SGT
South Africa: Sun, 7 May 2023 at 12:57 AM SAST