Kentucky Derby Standings 2023
The 149th Kentucky Derby is just around the corner, with up to 20 of the finest Thoroughbred horses preparing to compete on May 6, 2023. The race will kick off at 6:57 pm EDT at the legendary Churchill Downs Racetrack in Louisville, Kentucky.
This prestigious Grade I event offers an impressive $3 million purse, drawing the most talented equine athletes.
Below, we've compiled a list of the 2023 Kentucky Derby horses that have already earned their place in the main showdown.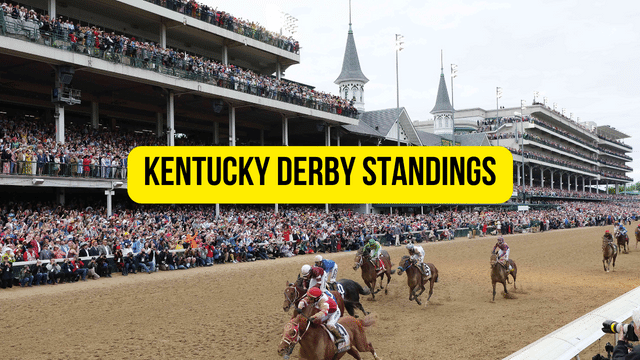 | RANK | HORSE | POINTS | TRAINER | EARNING |
| --- | --- | --- | --- | --- |
| 1 | Forte | 190 | Todd A. Pletcher | $2,359,730 |
| 2 | Practical Move | 160 | Tim Yakteen | $822,000 |
| 3 | Angel of Empire | 154 | Brad H. Cox | $1,026,375 |
| 4 | Tapit Trice | 150 | Todd A. Pletcher | $783,500 |
| 5 | Two Phil's | 123 | Larry Rivelli | $643,850 |
| 6 | Lord Miles | 105 | Saffie A. Joseph, Jr. | $427,100 |
| 7 | Derma Sotogake (JPN) | 100 | Hidetaka Otonashi | $1,112,319 |
| 8 | Kingsbarns | 100 | Todd A. Pletcher | $600,000 |
| 9 | Raise Cain | 64 | Ben Colebrook | $204,750 |
| 10 | Rocket Can | 60 | William I. Mott | $284,025 |
| 11 | Hit Show | 60 | Brad H. Cox | $277,500 |
| 12 | Confidence Game | 57 | J. Keith Desormeaux | $610,480 |
| 13 | Verifying | 54 | Brad H. Cox | $369,750 |
| 14 | Sun Thunder | 54 | Kenneth G. McPeek | $181,500 |
| 15 | Wild On Ice | 50 | Joel H. Marr | $366,400 |
| 16 | Mage | 50 | Gustavo Delgado | $205,200 |
| 17 | Blazing Sevens | 46 | Chad C. Brown | $507,500 |
| 18 | Disarm | 46 | Steven M. Asmussen | $237,500 |
| 19 | Reincarnate | 45 | Tim Yakteen | $263,250 |
| 20 | Continuar (JPN) | Invite | Yoshito Yahagi | $289,954 |