The Ultimate Fashion Guide to the 2023 Kentucky Derby at Churchill Downs
The Kentucky Derby, held at Churchill Downs, is not just about the thrilling horse races; it's also a showcase of fashion and style. As we approach the 2023 Kentucky Derby, it's time to start planning your outfit for the big day.
Our ultimate fashion guide will help you make a statement at this iconic event, ensuring you're dressed to impress from head to toe.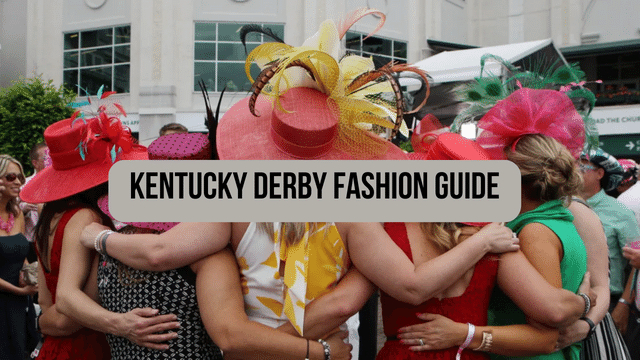 Embrace Classic Southern Style
The Kentucky Derby is known for its traditional Southern fashion. Embrace this classic style by selecting seersucker suits, pastel-colored dresses, and elegant hats or fascinators. Choose light, breathable fabrics like linen, cotton, or chiffon to keep you comfortable throughout the day.
Hats and Fascinators
A statement hat or fascinator is a must-have accessory for the Kentucky Derby. Wide-brimmed hats adorned with flowers, ribbons, or feathers are popular with women. Consider a stylish fascinator in bold colors or unique shapes for a modern twist. Men can use a classic fedora or Panama hat to complement their attire.
Color Palette
The Kentucky Derby is the perfect occasion to play with colors. Pastels are a timeless choice, with shades like mint green, soft pink, and baby blue being popular options. However, don't be afraid to experiment with bolder hues like fuchsia, royal blue, or even vibrant patterns. Just remember to strike a balance between your outfit and accessories.
Dress Code for Women
For women, knee-length or midi dresses are ideal for the Kentucky Derby. A-line, fit-and-flare, and wrap dresses are all flattering choices that embody the event's elegance. If you prefer separates, consider a tailored blouse paired with a skirt in a coordinating color or pattern.
Dress Code for Men
Men should opt for a polished look, with a suit or blazer and dress pants as standard attire. Seersucker suits, linen blazers, and tailored dress pants in lighter colors are perfect for the occasion. Complete the look with a button-down shirt, a tie or bow tie, and dress shoes.
Footwear
Comfortable yet stylish footwear is essential for the Kentucky Derby, as you'll likely be on your feet for much of the day. Women should choose wedges, block heels, or dressy flats, while men can opt for loafers or dress shoes. Remember to break in your shoes before the event to avoid any discomfort.
Accessories
Complete your Kentucky Derby look with the right accessories. Women can opt for statement earrings, necklaces, or bracelets to complement their outfit, while men can add cufflinks, a pocket square, or a tie bar for a polished touch. Don't forget a pair of sunglasses and a small clutch or crossbody bag to carry your essentials.

With our ultimate fashion guide, you'll be sure to make a stylish statement at the 2023 Kentucky Derby at Churchill Downs. Embrace the event's traditional Southern charm while adding your unique flair to create a memorable and fashionable experience. Happy Derby Day!
Also Check: 2023 Kentucky Derby Outfits for Women