Kentucky Derby Horses 2023: Trainers, Jockeys, Owners
The 2023 Kentucky Derby marks the 149th running of the prestigious race and is scheduled for Saturday, May 6 at 6:57 p.m. ET. The iconic event will once again be held at the famous Churchill Downs in Louisville, Kentucky. This year's race features a talented lineup of 20 thoroughbred horses, each vying for a place in the annals of horse racing history.
In the 2022 Kentucky Derby, Rich Strike defied the odds with an astounding victory as an 80-1 longshot. This incredible win stands as the second-longest odds for any horse in the Derby's history, surpassed only by Donerail (91-1) in 1913.
This year, several trainers, jockeys, and owners are preparing to take center stage with their horses. Notably, trainer Brad Cox, who won the Eclipse Award for Outstanding Trainer in 2020 and 2021, has four horses competing in the race. Among them are Hit Show, Verifying, Jace's Road, and Angel of Empire. Cox's impressive lineup showcases his skills as a trainer and his ability to develop winning thoroughbreds.
Another notable trainer is Todd Pletcher, an eight-time Eclipse Award winner. Pletcher has three starters in the 2023 Kentucky Derby, including the betting favorite Forte. Pletcher's other horses are Tapit Trice and Kingsbarns. With an outstanding training career and numerous wins to his name, Pletcher is no stranger to the excitement and pressure that comes with competing in the Derby.
The jockeys play a crucial role in the race, with their experience and skill guiding the horses to victory. This year's lineup features seasoned jockeys such as John Velazquez, Jose Ortiz, and Irad Ortiz Jr., as well as up-and-coming talent like Tyler Gaffalione, Manny Franco, and Flavien Prat. Each jockey brings their unique style and expertise to the race, making for a thrilling and unpredictable event.
The owners of these horses have invested time, effort, and resources in their pursuit of victory. Many partnerships and syndicates are involved in this year's Kentucky Derby, including West Point Thoroughbreds, Albaugh Family Stables, and Spendthrift Farm, among others.
These owners and their teams work tirelessly behind the scenes to ensure their horses are prepared and in peak condition for the race.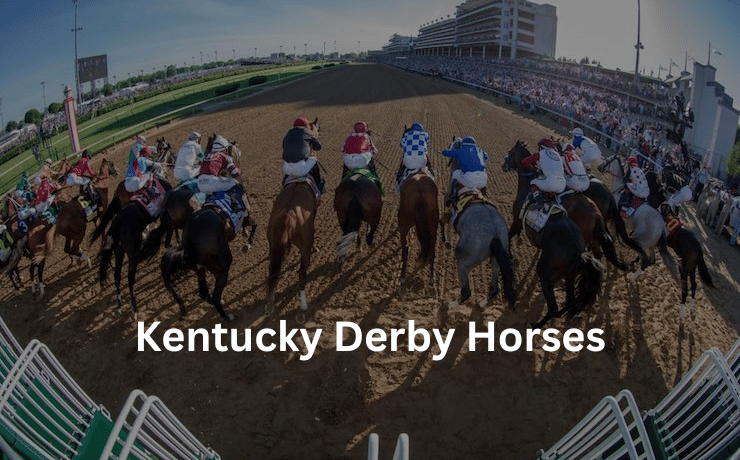 The following is a list of the horses scheduled to participate in the race and their respective jockeys, trainers, and owners:
| Horse | Jockey | Trainer | Owner(s) |
| --- | --- | --- | --- |
| Hit Show | Manny Franco | Brad Cox | Gary and Mary West |
| Verifying | Tyler Gaffalione | Brad Cox | Westerberg, Susan Magnier, Jonathan Poulin, Derrick Smith, and Michael Tabor |
| Two Phil's | Jareth Loveberry | Larry Rivelli | Patricia's Hope and Phillip Sagan |
| Confidence Game | James Graham | Keith Desormeaux | Don't Tell My Wife Stables and Ocean Reef Racing |
| Tapit Trice | Luis Saez | Todd Pletcher | Whisper Hill Farm and Gainesway Stable |
| Kingsbarns | Jose Ortiz | Todd Pletcher | Spendthrift Farm |
| Reincarnate | John Velazquez | Tim Yakteen | SF Racing, Starlight Racing, Madaket Stables, Robert Masterson, Stonestreet Stables, Jay Schoenfarber, Waves Edge Capital, and Catherine Donovan |
| Mage | Javier Castellano | Gustavo Delgado | OGMA Investments, Ramiro Restrepo, Sterling Racing, and CMNWLTH |
| Skinner | Juan Hernandez | John Shirreffs | C R K Stable |
| Practical Move | Ramon Vazquez | Tim Yakteen | Leslie Amestoy, Pierre Jean Amestoy Jr., and Roger Beasley |
| Disarm | Joel Rosario | Steve Asmussen | Winchell Thoroughbreds |
| Jace's Road | Florent Geroux | Brad Cox | West Point Thoroughbreds and Albaugh Family Stables |
| Sun Thunder | Brian Hernandez Jr. | Ken McPeek | R.T Racing Stable and Cypress Creek Equine |
| Angel of Empire | Flavien Prat | Brad Cox | Albaugh Family Stables |
| Forte | Irad Ortiz Jr. | Todd Pletcher | Repole Stable and St. Elias Stable |
| Raise Cain | Gerardo Corrales | Ben Colebrook | Andrew and Rania Warren |
| Derma Sotogake | Christophe Lemaire | Hidetaka Otonashi | Hiroyuki Asanuma |
| Rocket Can | Junior Alvarado | Bill Mott | Frank Fletcher Racing Operations |
| Lord Miles | Paco Lopez | Saffie Joseph Jr. | Vegso Racing Stable |
| Continuar | Ryusei Sakai | Yoshito Yahagi | Lion Race Horse Co. |
As the 2023 Kentucky Derby approaches, excitement builds around the talented lineup of horses, trainers, jockeys, and owners. With a blend of seasoned professionals and rising stars, the race promises to be an unforgettable event filled with heart-pounding action, dazzling performances, and a new champion etching their name in the history books.